Complete CRIWARE Support from CRI Middleware
This post explains how to quickly find all the information you need when using CRIWARE and how to get support from CRI Middleware.
Introduction
CRI Middleware is proud to deliver top-notch customer support. Our goal is to provide you with the assistance you need when you need it. Our support is available in English, French, Japanese and Chinese.
We offer 3 levels of CRIWARE support: (1) complete online documentation and tutorials; (2) our email support portal; (3) direct Premium Support via Skype/phone including application specific customization,  and onsite services available by request.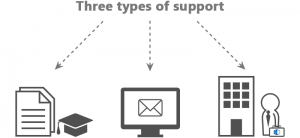 Our priority will always be to do our best to ensure that you have all the information and the support you need to achieve your goals.
Where to Find the Information?
Company & Products
If you have basic questions about our company or our products, you can always consult our website.
FAQ
If you have more specific questions you can refer to our FAQ (in English or French).  Our FAQ is a comprehensive list of the most common questions from the CRIWARE community matched with useful, informative answers.
Quick Start guides
If you are evaluating CRIWARE, or if you are a new customer, we have prepared several Quick Start Guides for you. You'll find them in the "FirstSteps" folder of your SDK, and on the ADX2 and Sofdec2 pages of the website.
The Quick Start Guides will guide you through the first steps of creating a game audio project with ADX2, or encoding videos with Sofdec2. You will learn how to use the authoring tools to generate data, and how to implement audio and video playback in your game.
Product documentation
If you are already using ADX2 and have questions about advanced functions, you can always access the user manual directly from the AtomCraft tool. You can find it in the Help menu or by pressing F1 on your keyboard.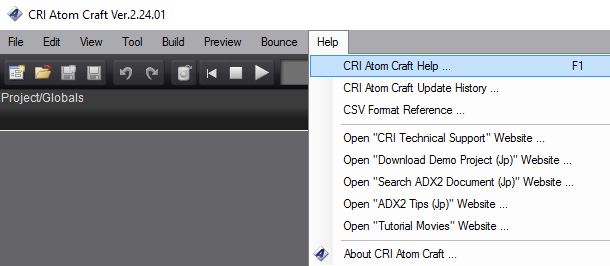 E-Learning
If you want to learn how to use ADX2 or Sofdec2, we regularly write technical and implementation posts on the CRIWARE blog that explain specific features.
What's more is that we've published 27 video tutorials to help you to learn how to use ADX2. You can find them on our YouTube Channel.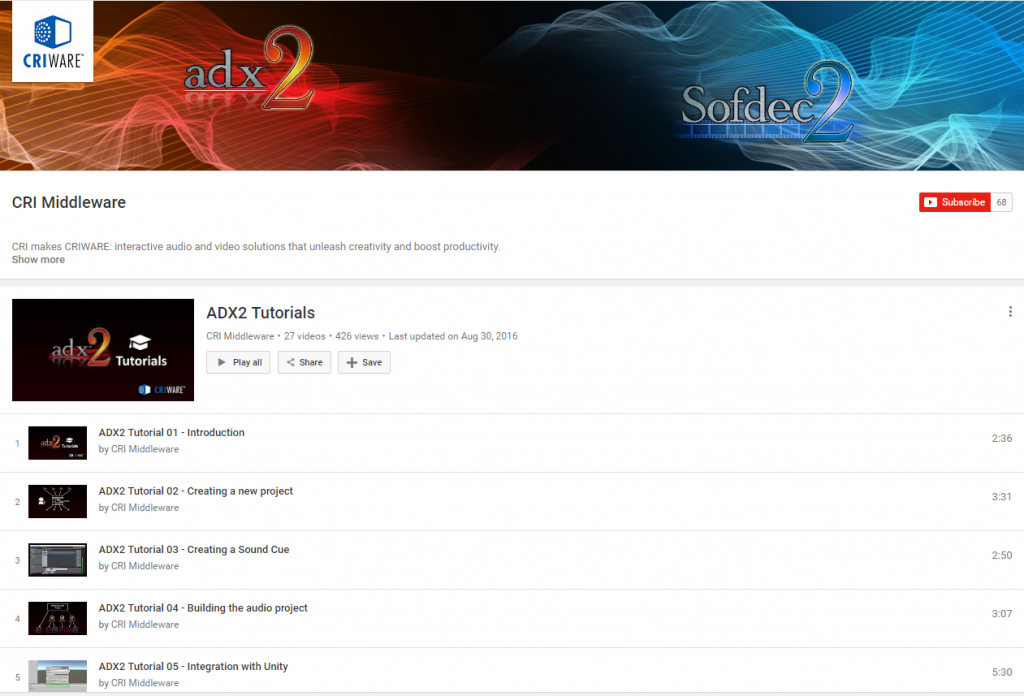 In this series of videos tutorials we cover all the main ADX2's functions. You will learn how to create immersive audio for your games, and how to integrate ADX2 with your favorite game engine.
Asset creation assistance
Should you need help with authoring and implementation, CRI Middleware has partnered with renowned video game audio production studios in the US, China, and Japan. For more information, please read our post about CRIWARE's Certified Sound Studios.

On-Site Training and Support
If you are a Premium Support customer, CRI Middleware can provide you with on-site technical training and support.  Please contact us at global-sales@criware.com for more information.
How to Get Assistance from CRI Middleware Sales & Support Team?
If you have any questions, please do not hesitate to contact us by filling out our contact form or via email at global-sales@criware.com.
If you are already a customer, or simply evaluating CRIWARE, you can also reach us through our Support Portal.
This concludes our post on CRI Middleware support. Let us know if you have any questions about our customer service!