Large-Scale Voice Chat with TeleXus
We recently released a new version of CRI TeleXus which allows for voice chat between thousands of people in a vast virtual world. Our proprietary distributed routing technology enables large-scale voice chat in the metaverse space at low cost.
Communication in online spaces where many users gather, such as the Metaverse, online live performances, virtual shopping, museums, virtual offices is now possible. The system also offers voice effects to ensure anonymity and protect privacy, and spatial audio to increase speaker separation.
Many of the current Metaverse platforms limit the maximum number of people who can interact simultaneously to around 10 to 50. Even when more people are allowed, voice communication is usually unavailable.
CRI has developed a system that allows a large number of users to interact in the same space at the same time, using a unique distributed routing technology that distributes and controls the conversations of thousands of people using their own devices.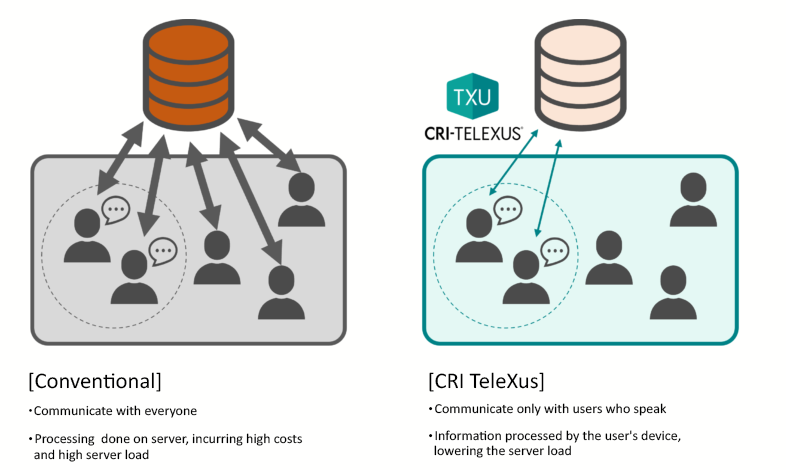 When a large number of persons participate to an event online, in order to favorize the conversation of nearby users, the location information, facing direction, distance between users, etc.  must also be taken into consideration and managed on a server. Furthermore, since all users can move freely in the online space, it is necessary to respond in real time to any changes.
The usual answer to this problem is to boost server capabilities as needed. CRI has developed its own communication optimization technology. By processing some of the information on the user's device, and only for participants involved in a conversation, the server load and communication costs can be reduced.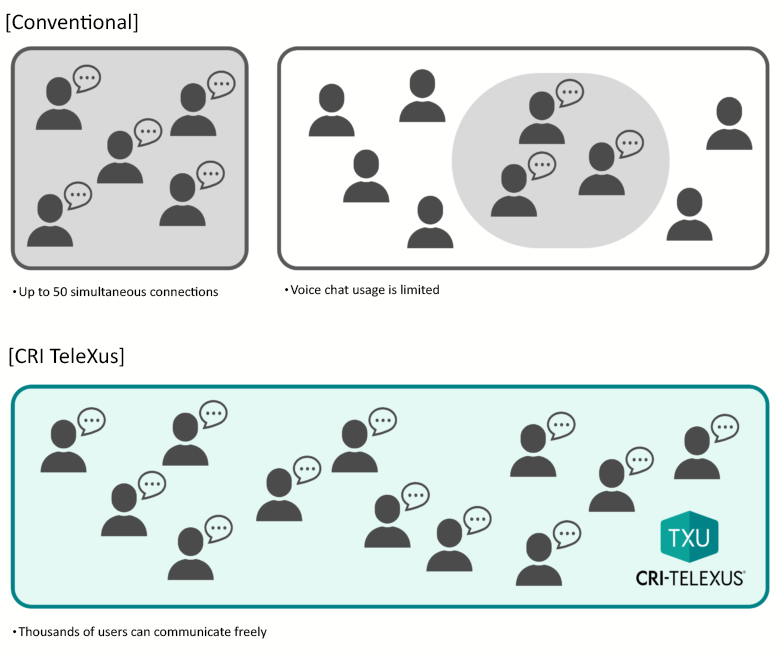 Several other improvements are included in this latest update of CRI TeleXus, such as better P2P communication, spatial audio enhancements, and a beta version of the upcoming speech-to-text feature.