Formosa Interactive – Perspectives on Game Audio Tech
We are proud to include Hollywood's Formosa Interactive as one of our three ADX2 Certified Sound Studios. The stellar Formosa team has provided award-winning sound design and voice-over for critically-acclaimed titles like Call of Duty: Infinite Warfare® (Activision®), Uncharted 4 (Naughty Dog®) and Star Wars: The Old Republic® – Knights of the Eternal Throne (BioWare®). Industry veterans Paul Lipson (VP of Creative Services), and Kristoffer Larson (Senior Sound Supervisor) shared some valuable insight into their experience with audio implementation and technical sound design in this short, exclusive interview.
What was your first experience with audio implementation?
KL: My very first experience with audio implementation was around the year 2000 at Konami in Redwood Shores. We were ramping up on a new project and the Audio Director was tasked by the programming team to come up with a feature list for the "audio engine", a term I had never heard before. The audio department had a meeting to discuss a wishlist of functionality, and we felt that we were really pie-in-the-sky dreaming when we were talking about a system that could have similar functionality to a MIDI based studio with note-on, note-off, volume, etc.
Both Gordon Durity (Electronic Arts) and Mark Yeend (Microsoft) have commented that audio implementation can be a bottleneck for large scale AAA projects. How do you help your clients solve that problem? What are some of the issues and challenges involved with providing external implementation services?
KL and PL: For interactive content, implementation time is at least 50% of the overall work, and sometimes much more. It can be time-consuming, technically challenging, and highly iterative, which requires a feedback loop back to the content design stage.  Formosa Interactive provides full audio integration services that can scale to fit any size project. Every member of our creative team can work with 3rd party and proprietary implementation tools, which means that we can provide informed interactive design that can be checked into the client's CMS and source control solution like Perforce or SVN. Most of the challenges are the same as any of those faced by the internal audio team; tool setup and stability, production and dependency management. The closer we work with the developer, the more we end up becoming part of their team to help mitigate these issues. This means being a part of regular team meetings, included on their internal social channels, and brought into the project as early as possible. We are also adept at working with deep info security requirements, and I think our clients benefit for the security we provide while working remotely.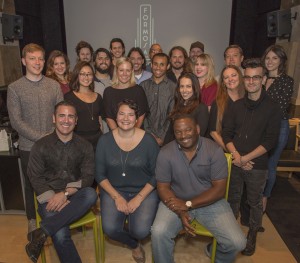 The team at Formosa Interactive
Do you work with proprietary audio engines and tools? How do you prepare to work with technology with unfamiliar functionality and UI?
KL and PL: Yes, we are frequently working with proprietary tools, which requires all of us to keep sharp and always up on the latest design technologies and approaches. When preparing to work with a new system, we usually start with a meeting at the developer's location so we can get first hand training and meet key team members that we will be working with over the course of the project. Seeing how the dev team works with the tools in-house gives us a baseline expectation and knowledge set. Developing the relationships helps not only in the day-to-day interaction with the team but also makes it easier to discuss any technical problems or gain insight into any tips and tricks with that tool.
Please give us some insight into your workflow. How do you bridge the workflow gap between creating audio content and plugging that content into the game?
KL and PL: For many of our projects we are only tasked with a subset of services, but our favorite and most effective mode of working is to incorporate content design with full integration so that there is no disconnect between the designer and the end result in-game. This is the most natural and intuitive method for creating interactive audio, moving naturally from concept to design to implementation to testing and tweaking, repeat as necessary until the experience is perfect. Whether we're working on the main CMS depot or a development branch or local-only, our designers have the tools open on their dev machine and are constantly trying out their work in-game. The best audio engines and tools reduce the amount of time required between the creation and the tweaking, and provide enough features to manipulate and design from within the engine itself.
How involved is Formosa in designing interactive audio systems such as adaptive music, vehicle engines, dynamic VO playback for your clients?
PL: We are deeply involved with strategy and full system design. Our clients often hand us entire systems or sections of a game title to design, and with our distributed pipelines we can easily plugin and iterate just like we are a part of the internal team. We enjoy having the trust.
Formosa Interactive just recently became one of the first CRIWARE ADX2 Certified Sound Studios. What aspects of ADX2 do you think are most useful for developers?
PL: ADX2 is such a flexible system. The front end is a joy to navigate, and the underlying SDK is powerful and lightweight. We've enjoyed the quality of the compression codec, and think devs and creatives will love how accessible the systems are.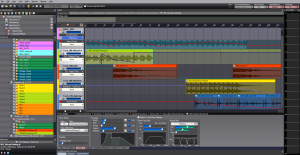 What's the most exciting aspect of audio implementation for VR projects? What tools are you using for VR audio implementation? How is the process distinct compared to current gen platform development?
KL and PL: One of the most exciting and challenging aspects of developing for VR is that the bar is even higher for the quality of the content and the precision of the implementation. Audio for VR is not just making great, thematically appropriate sound, but recreating all the physical and psychoacoustic stimuli to trick the human brain into believing that they are somewhere else. VR audio implementation is functionally quite like traditional 3D game development, with main differences in property values, curves, placement of emitters that need to be modified to best support the experience, etc. These aspects need to be thoughtfully conceived, precisely implemented, and rigorously tested and tweaked to seamlessly work with the visuals so we can transport the user to another reality with fantastic audio!