Introducing Aeropoint GUI
We are proud to announce the availability of "Aeropoint® GUI", our new GUI middleware. With Aeropoint GUI, it becomes easy to create beautiful and expressive user interfaces for smartphones and other embedded devices that typically require specialized technology and high development costs.
High-quality, sophisticated GUIs with moving elements can now easily be implemented on devices with lower graphics capabilities such as home appliances and industrial equipment in order to improve the visibility of the information and the user experience.
Indeed, the main advantages of Aeropoint GUI are:
Advanced GUI on embedded devices
Where in the past a microcontroller with a low graphic capabilities made it difficult to realize efficient GUI, with Aeropoint GUI you can improve the operability of embedded devices such as IoT terminals.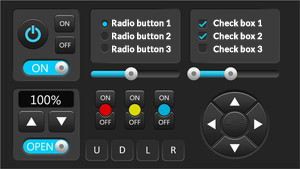 High precision and smooth GUI
Aeropoint GUI is using a graphics engine that was initially developed for games, allowing for GUIs with smooth motion. Touch devices are also supported to offer intuitive user operation with visual effects.
Use PowerPoint® as the design tool
Aeropoint GUI relies on PowerPoint to perform the GUI design (such as interface layout and screen transitions). This dramatically improves the authoring process and reduces both production time and costs, even for users with no UI/UX experience.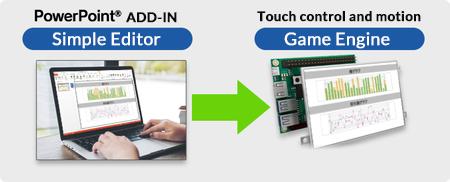 Aeropoint GUI  can be used to enhance the user experience of a wide range of products such as:
Home appliances: electric oven, massage machine, video camera, etc.
Industrial equipment: multi-function machines, production monitoring systems etc.
IoT equipment: terminals, HEMS etc.
Don't hesitate to contact us if you want to learn more about Aeropoint GUI.